Drostanolone is best known by brand Masteron. This is a dihydrotestosterone (DHT) derived anabolic and androgenic steroid (AAS). It comes only in form of injection and you can find it 2 versions:
Drostanolone Propionate
Drostanolone Enanthate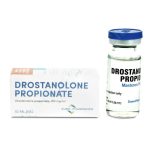 Both versions are known by the brand Masteron. Either Masteron Propionate or Masteron Enanthate. Both come as injections and the difference between them is in the half-life.
Masteron is considered a weak steroid, nonetheless, is still recommended only to people who have experience with steroids. We'll explain below why. With this being said, people with experience already know what's the difference between them.
Buy Drostanolone Propionate Here
Buy Drostanolone Enanthate Here
This compound was created many years ago for medical purposes, pretty much like most other steroids. Athletes and bodybuilders, however, discovered that this is by far one of the best "cosmetic" steroids. So it is nowadays a popular anabolic steroid for physique and performance enhancement needs.
Masteron Profile
We've mentioned that Masteron (Drostanolone) is a "cosmetic" steroid. We've also mentioned that it is a "weak" steroid too. That's because Masteron has low anabolic and androgenic ratings on paper. Therefore, the compound is not highly effective at growing muscle mass and gaining strength. Instead, due to its unique DHT structure, Drostanolone does an amazing job in offering a hard muscle appearance.
There's no other steroid that could make your muscles look as hard as Drostanolone would. But to achieve this, the user already should have a good amount of muscles and a low percentage of body fat. That's why we mentioned that it is a weak steroid but still recommended only to people with experience with other steroids.
Another important thing to mention is that Masteron shouldn't be used alone.
First off, this is a weak steroid, using it alone won't be as productive. Additionally, since it is weak, adding it to an already existing cycle wouldn't really increase the risks of side effects. But would still work as a booster.
Second, this DHT derived steroid has some anti estrogenic properties. Stacking it with other "wet" steroids would work in synergy as it would combat some estrogen related issues. Like for example, water retention and gynecomastia due to reduced estrogen in the system.
Third, because Drostanolone binds to SHBG (Sex Hormone Binding Globulin) very well. This leads to a more free testosterone ratio in the body. It allows other steroids to have an enhanced effect.
So, Masteron – Drostanolone is always used with other steroids and only by people with already low body fat. That's to benefit from its properties and to see the effects of hardening of muscles. That's why Masteron is "cosmetic" and used as a pre-contest drug.
Masteron Cycle
You should be injecting Masteron intramuscularly. Regardless of the version you run, go for dosages of 300-700 mg weekly. That's for most people. The sweet dosage is about 500 mg a week.
Masteron Propionate is used daily or at least every other day. Masteron Enanthate is used 2 or 3 times a week.
Cycle length usually determines the version you want to use. For cycles of 8-10 weeks, you go for the Propionate version. Longer cycles usually go for Enanthate.
Since pre-contest cycles are commonly short, Drostanolone – Masteron Propionate version is most popular.
Testosterone Propionate 10 weeks 350 mg a week used in 50 mg a day
Masteron Propionate 10 weeks 500 mg a week used in 70-75 mg a day
Commonly, people may add other cutting steroids depending on the level of experience, goals, and various other factors.
Drostanolone – Masteron Side Effects
Because Drostanolone comes only in the form of injection, there's no need to be worried about liver damage. There's also no need to worry about estrogenic issues because Drostanolone is DHT derived. It won't only not cause estrogenic issues, it would also fight them off.
Masteron is a weak steroid that's why the natural testosterone suppression rate isn't as bad. Nonetheless, a PCT plan is still highly recommended. Especially because it must be used with other steroids. Steroid stacks always require Post Cycle Therapy. Unless you're on TRT or cruising.
Side effects of Masteron, however, are mostly related to the fact that it is DHT derived. High DHT levels may result in hair loss, acne, aggression, and others. Nevertheless, mostly, only people prone to such issues usually experience them.
Buy Masteron for sale from CycleGear.to
Buy Masteron Here